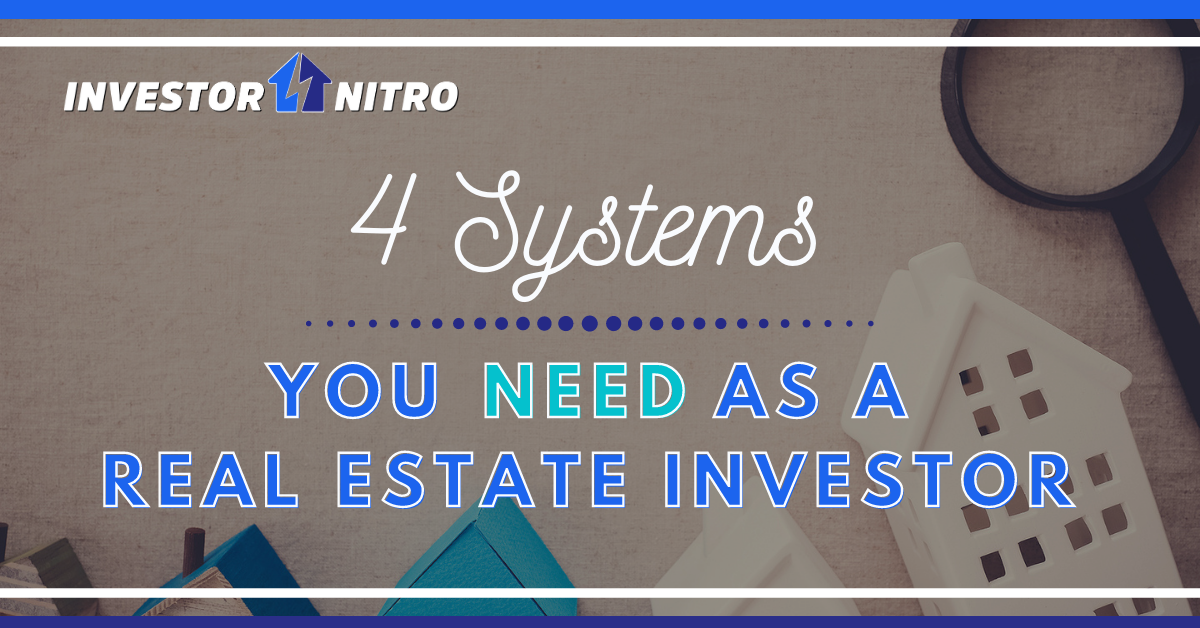 Getting off the ground as a real estate investor takes time, dedication, and patience. It tends to be the kind of business where things snowball, but the initial snowball feels small and may feel like it is growing too slowly.
The way to advance quickly and reliably is to build your investments around strong and reliable systems that automate and improve the core aspects of your business. In real estate investments, you need to be able to find sellers, analyze properties, add value to them, and then move them (via flipping, renting, or otherwise). The tools and resources that help you at each of these stages can be broken down into four fundamental systems. You need systems focused on lead generation, positive review acquisition, rehab calculations, and customer management. Let's explore each of these to help you take the next big steps towards success.
Lead Generation
Lead generation is your first fundamental system. This is what puts you in contact with prospective sellers in order to make investments in the first place. Lead generation comes from a number of sources, and your system should handle multiple of the leads you capture.
Advertising is obviously important, and you want more than a cardboard sign on the corner of a street somewhere. Pay-per-click ads are one of the most valuable advertisements. The tech companies that run these campaigns can use digital data to target people who are expressing interest in selling their property. It improves the ROI of advertising by using data and technology to cultivate valuable leads.
Similarly, search engine optimization (SEO) helps prospective sellers find your website. Good SEO creates organic leads, and SEO investments tend to hold value over time. Making your website more visible, obviously, is advantageous.
You can also incorporate data collection into your lead generation. These services can go through court documents, local social media posts, and real estate listings to find prospects who are most likely to fit your targeted demographics.
Positive Review Acquisition
While lead generation helps people find you, reviews are the resource that holds their interest. Online reviews are one of the most reliable tools for customers to gauge the value of a business, so you need a cache of positive reviews.
Positive review acquisition services provide robust measures that help turn sellers into reviewers — and positive reviewers, at that. As opposed to purchasing fake reviews that can have negative consequences, positive review acquisition creates genuine reviews. This helps with business listings on sites like Yelp, and it is more compelling to prospective customers who are often able to see through fake reviews. The service builds your reputation, which helps your conversation rates and bottom line.
ARV or Rehab Calculator
One of your key systems is all about numbers. You're investing in property. You need to be able to quickly and accurately assess the cost of renovations before you commit to buying. Tools exist to help you with this, and they can be remarkably accurate.
Proper rehab estimates help you make offers that have the best possible profit margins. They also help you control cash flow and avoid overinvesting in properties that become difficult to liquidate. A rehab calculator should inform all of your investing decisions, and when used correctly, it will be the resource that optimizes your investment business and ensures that you stay in the black.
CRM and Follow up Automation
Customer relationship management, or CRM, is a major system and likely to be one of your larger digital investments. CRM tools help you manage interactions and communications with customers. This can include everything from phone calls to digital marketing.
The purpose of CRM systems is to help you work efficiently while prioritizing what matters most: customer interactions. You have to have conversations and interactions with your leads in order to purchase and liquidate property. It's the backbone of the entire business. CRM tools can help you stay organized and on schedule. You can automate follow-ups, which helps with converting leads, generating positive reviews, and building a solid business in general. CRM systems can also help with data and analytics to help you focus your efforts on areas that get the best returns.
All of these systems are essential to running a successful real estate investment business. A shortage with any of them can hurt the entire process. Fortunately, you can get access to all of it from Investor Nitro. Contact us today! We'll show you how to build these systems efficiently and robustly to ensure the future of your real estate investment business.