Dominate Local Search Results and Drive Real Estate Investments with Investor Nitro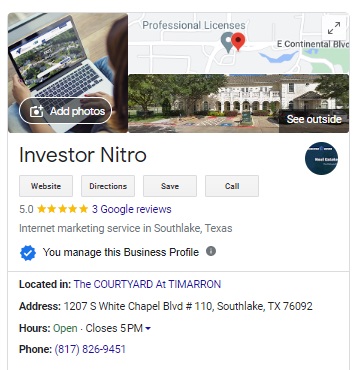 Welcome to Investor Nitro, where our cutting-edge Google Business Profile (GBP) management services empower real estate investors across the US to capture and engage more leads through strategic local search optimization.
Tailored Google Business Profile Strategies for Real Estate Investors
At Investor Nitro, we understand the unique needs of the real estate investment market. Our tailored GBP management services are designed to put your portfolio in front of the right audience, ensuring that when potential clients are searching for investment opportunities, your business is the one they find.
Comprehensive GBP Optimization
Our team specializes in:
Keyword-Rich Descriptions: We craft compelling GBP descriptions that highlight your investment specialties, using keywords that prospective clients are searching for.
Accurate NAP Details: We ensure your Name, Address, and Phone number (NAP) are consistently up-to-date across the web, boosting your local SEO and credibility.
High-Quality Images: Showcasing properties with high-resolution photos on your GBP can significantly increase engagement and click-through rates.
Regular Posts and Updates: We keep your GBP lively with regular posts about your latest properties, investment tips, and market insights, keeping potential clients informed and engaged.
Managing Reviews: Positive reviews are gold in real estate. We help you navigate and respond to reviews, enhancing trust and establishing a robust online reputation.
Local SEO: The Investor Nitro Edge
While GBP is a cornerstone of our strategy, we integrate it with a broader local SEO approach. This includes optimizing your website for local search terms, building local backlinks, and ensuring your online presence is authoritative and ranks high in search engine results pages (SERPs).
Case Studies: Investor Success Stories
Don't just take our word for it. Explore our case studies where we've helped clients like you increase their visibility, improve lead quality, and close more deals with our comprehensive GBP management.
Get Found with Our Geo-Targeted Approach
We focus on the localities you serve, optimizing your GBP for geographic relevance. Whether your target market is a bustling city or a tranquil suburb, our geo-targeted approach is designed to ensure your profile ranks prominently for local searches.
Google Business Profile and Review Generation: The Trust Catalyst for Real Estate Investors
In the competitive world of real estate investment, trust is a currency as valuable as the properties you're investing in. At Investor Nitro, we leverage the power of your Google Business Profile (GBP) to not only increase visibility but to build and showcase this trust. We focus on review generation, encouraging satisfied clients to share their positive experiences. These reviews act as powerful social proof, providing potential investors with the confidence they need to engage with your services. A well-maintained GBP with a steady stream of positive reviews is a beacon for new clients, signaling that your business is reputable, reliable, and ready to meet their real estate investment needs.
Use Google Business Profile to Build Trust Signals
Trust signals go beyond reviews; they encompass the entire narrative your GBP presents to the world. Investor Nitro ensures that every aspect of your GBP—from the accuracy of your contact information to the quality of your visual content—reinforces trustworthiness. We regularly update your profile with the latest achievements, listings, and informative posts, which not only educates your potential clients but also shows Google and other searchers that you are an active and authoritative figure in the real estate investment community. With our strategic approach to GBP management, we turn your profile into a trust-building machine that works around the clock to enhance your reputation and credibility in the market.
Why Choose Investor Nitro?
Expert Team: Our SEO specialists have a deep understanding of the real estate investment landscape.
Proven Results: We've helped numerous clients achieve top GBP rankings, resulting in increased leads and investments.
Personalized Service: Every real estate investor is unique, and we tailor our services to meet your individual goals and market dynamics.
Ready to Amplify Your Online Presence?
Connect with us at Investor Nitro today to start optimizing your Google Business Profile and take the lead in local search results. Let's build your real estate investment success story together.