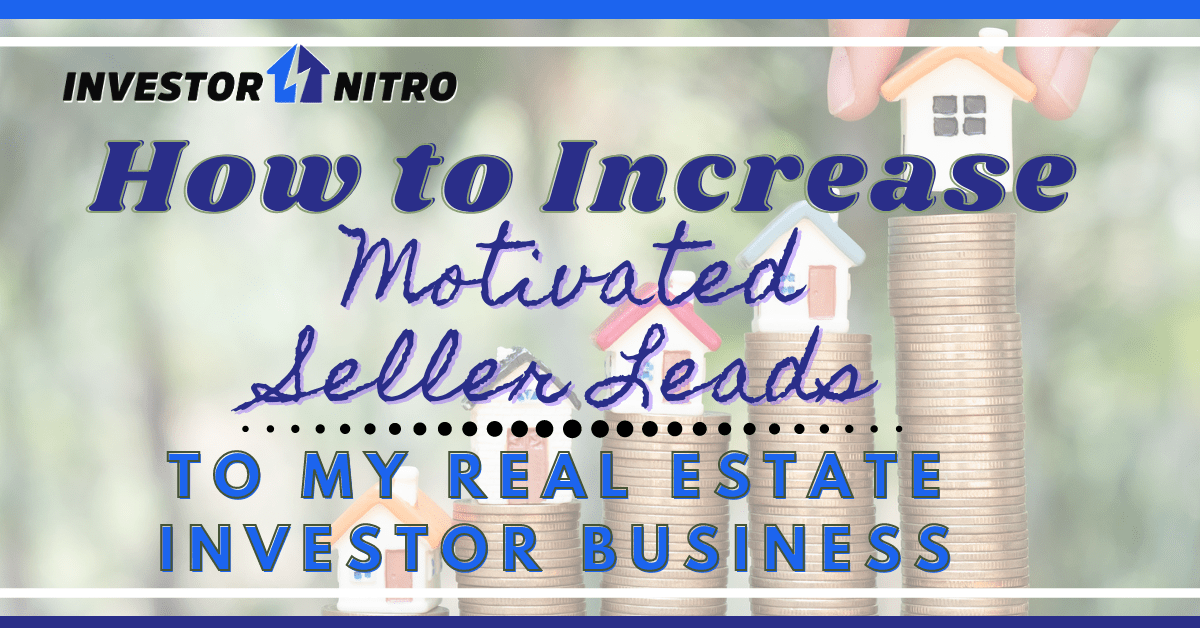 The number one thing real estate investors say they wish they had more of is motivated seller leads. Countless times, real estate investors have asked our team, "how can I get more leads?"
Which avenues can most cost-effectively satisfy the results you're looking for? Which real estate investor lead generation strategies produce high-quality leads that are most motivated to sell their home? Most importantly, how can you outshine your competitors in the area — or better yet, how do you reach motivated sellers before anyone else has a chance to make an appealing offer to them?
The answer lies with digital marketing. Most people today, especially homeowners, are using the Internet to find answers and connect with businesses. Only 10% of Americans don't use the internet at all, which is a huge leap from 2000 when only 49% of people used the Internet.
Whether it's redeeming an offer found on social media or using search engines like Google to find a solution, motivated sellers can find your business online. Digital marketing for real estate investors will continue to prove a valuable investment for your home-buying goals.
Whether you're a brand new investor or an established deal-closer, it's not hard to get started with digital marketing. However, digital marketing for Real Estate Investors does require a foundation in marketing in general. As well as online marketing. Properly implementing these 5 methods for increasing motivated seller leads will require some time to learn the best practices. Staying studied in real estate investor lead generation can eventually produce you a cost per lead you are happy with.
If you run into any difficulties, or if digital marketing is not your cup of tea, the team of digital marketing specialists at Investor Nitro are just a message or phone call away to take over.
1. Get a real estate investor website that is designed to convert motivated sellers
An effective real estate investor website needs to include more than just your business information and a clear explanation of your business services. Your website should be designed for lead generation and include website copy that addresses the concerns of your audience and frames your business as a helpful solution.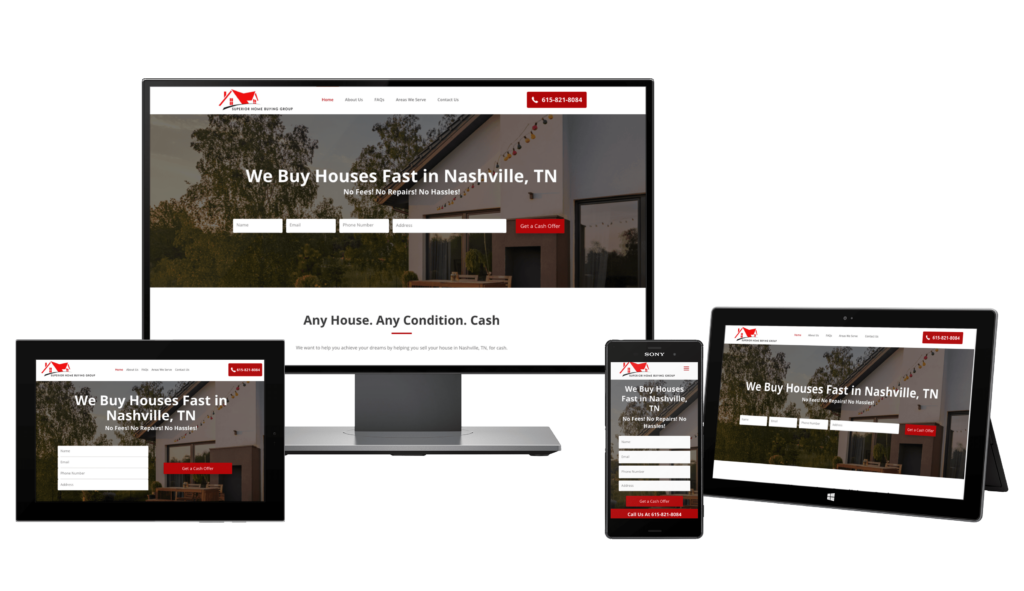 A website designed for lead generation means making it easy for motivated sellers that visit your website to convert in a web form or a phone call. That means making it clear that you want from them and outlining exactly how the process works so they don't hesitate to get started. Common problems holding your real estate investor website back include webpage "clutter," irrelevant or tone-deaf messaging, and harsh colors that distract the eye; all of these factors, once improved, can contribute to more leads staying on your site and not clicking the dreaded "back" button.
Lastly, no website will rank within the first pages of Google results without proper Search Engine Optimization (SEO). Proper website optimization requires knowledge of domains, website headers, highly-searched keyword phrases, how to properly name image and video files, and much much more! Your website needs quality SEO practices if you want to be found by motivated sellers in your service area.
Rather than beginning your digital growth with a Wix website or some other general website builder, consider the Investor Nitro templates that are already proven to lead to conversions. Each Investor Nitro website template comes with optimized website copy that directly addresses the needs of motivated sellers.
2. Launch a real estate investor PPC campaign
Launching a PPC campaign is a powerful starting place for a real estate investor that wants high-quality leads now. Generally known as the fastest strategy to find motivated seller leads, Pay-Per-Click (PPC) campaigns through Google Ads or Bing Ads are how you find homeowners with the intention of selling their property quickly and easily.
The keyword for this strategy is intention. When people use search engines like Google, Bing, or Yahoo, they typically are looking for a solution to their problems right away. The leads produced from a PPC campaign are generally going to have the most pressing need and therefore the most immediate intention to sell. Because of the desire to sell their home easily or quickly, or save their home equity when faced with foreclosure, the quality of the lead is likely to be higher.
Another reason PPC is a good starting place for inbound marketing is that the motivated seller leads reveal important information through their search phrases. Called search queries, the exact phrases that people type reveal more about the problem they were trying to solve before they saw your ad and clicked through to your website. If most of the people clicking your ad and filling out your webform typed in something related to "I need to sell a house fast," then the next step for optimizing that PPC campaign would be focusing on those keywords. A competent paid ads manager could build out that part of the campaign to see a higher return on investment (ROI) for your ad spend.
Let's say, for example, you're an investor and have heard about how Google Ads and PPC campaigns can bring you leads fast. It's powerful that Pay-Per-Click campaigns can get you to page one of the search results. But what about cost per lead? If you've run a campaign before and were not satisfied with the results, would you consider trying it again?
It's a good idea to optimize your website and eventually reach page one of Google organically, but investing in a PPC campaign is also recommended, especially because Google increases the number of ads on their search engine each year. When that lead generation campaign is set up by someone that understands how to optimize for motivated sellers, the results could be exactly what your business needs to scale.
3. Optimize your Google My Business listing
For real estate investors, a location-based digital strategy is perfect for finding motivated sellers in your service area. Local properties that you're looking for can actually come to you through proper online local presence management. Google My Business is only one part of a full local presence management play, but is most familiar to leads, making it a top priority if you have not created or updated your listing.
Google My Business is how Google understands where your business is located. The only way to show up in the highly-valuable "Local Map Pack" is to have a GMB listing for your company and optimize it regularly. Optimizing your Google My Business listing creates a fantastic opportunity for relevant motivated sellers near you to find your company while they are searching for a solution on Google.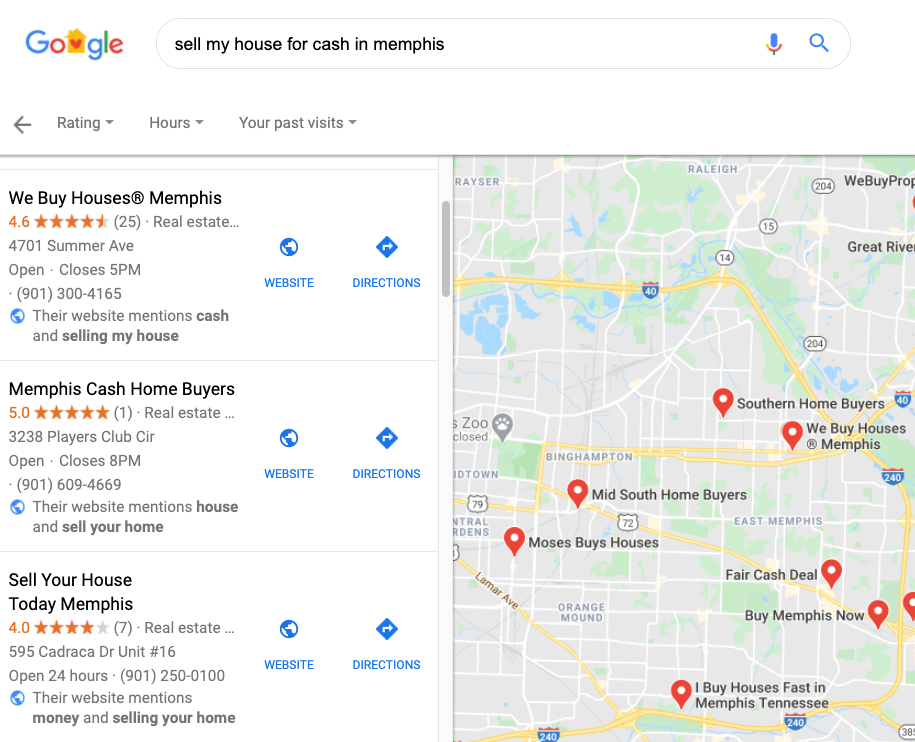 Any long-term marketing plan for success should include a pathway to organic search traffic because people will likely continue to use search engines to find information when they want it right away. Digital directories like GMB allow leads that are located in your service area to find you. This type of strategy is so important to real estate investor marketing, we include a local presence management solution in our "Nitro Advanced" website package. It's the best option for investors that need to be seen online as quickly as possible.
4. Generate positive real estate testimonials
Positive business reviews from your customers, especially when found on Facebook or Google, can generate motivated seller leads by simply existing. Word-of-mouth marketing (WOMM) remains one of the most important factors in the consumer journey, and 72% of people trust online reviews as much as a personal recommendation. Another important part of local presence management involves gathering reviews from your customers. Positive reviews are essential to any real estate investor business that wants to stand out in their geographic area. A near 5-star rating could be the difference between a prospective lead choosing your offer or your competitor's.
There is software available that makes generating and managing reviews a cinch. Which review generation software is best for you depends on a number of factors, such as your location and intended audience. At Investor Nitro, we have knowledge of a vast number of tools and software to help out with generating reviews, and we can help formulate a custom plan for your business.
5. Opt for paid social media ads
Social media ads can find motivated sellers where they spend much of their free time. While these leads may not necessarily be actively looking to solve their problems as with a search engine lead, the leads from platforms such as Facebook and Instagram can yield cost-controlled results that increase profits for your business. First, an effective ad needs to be visually interruptive enough to catch attention so that people actually stop scrolling. Then, the ad copy should address the concerns of your intended audience and include a compelling call to action.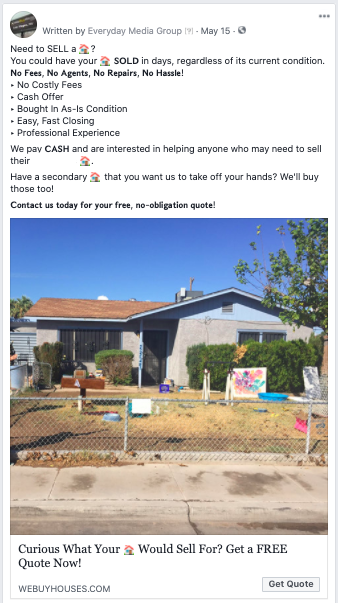 Since Facebook's changes to its advertising practices in August of 2019, finding motivated sellers through advertising has become more challenging. While the advertising practices changed to help prevent discrimination in ads that offer housing, employment, and credit opportunities, this meant that real estate investors could no longer target audiences based on traditional advertising segments, such as by age, gender, ZIP code, and more.
Any real estate investor looking to increase their lead flow should familiarize themselves with Special Category Ads, which relate to housing-related services and how the campaigns can be targeted. A talented social media ad manager can help identify your target audience's particular interests and help you get the best lead quality and cost-control practices for your campaign. Whether you want to use the platform's lead form or drive traffic to your lead-converting website, social media ads can provide results fast. The Investor Nitro social media managers are here to help our Investor Nitro members and real estate investors tired of not seeing results in their current campaigns.
Digital lead generation, when correctly implemented, can increase the motivated seller leads to your real estate investor business. If you would rather someone handle the setup and optimization of digital lead generation for motivated seller leads, contact our team of digital marketing specialists. Investor Nitro provides a complimentary 1-on-1 strategy call for real estate investors looking to improve their inbound marketing. Contact us today to get started on the path towards superior real estate investor marketing.