Digital Marketing Agency for Real Estate Investors in Houston, TX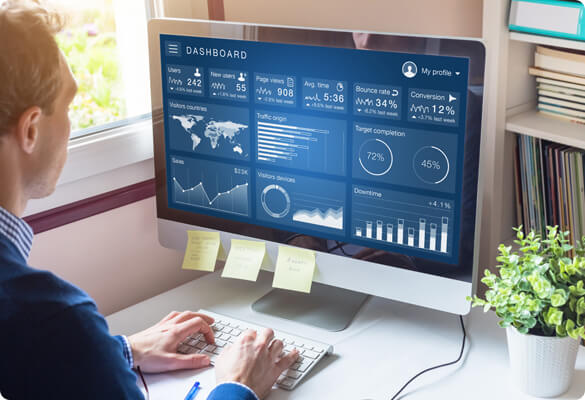 Get Qualified Leads in Houston, TX with Pay Per Click Advertising
The Houston, Texas area is growing quickly, and if you are a real estate investor, you need to collect as many leads as possible. That means you need to have a strong digital marketing campaign, and it would be our pleasure to assist you. We are Investor Nitro, and we have a tremendous amount of experience with a wide variety of marketing strategies, and one of the most popular and effective options is called pay-per-click (PPC) advertising.
PPC is a form of online advertising in which advertisers accrue costs when users click their ads, with the goal to generate more leads and sales. If there is a specific keyword that you would like to target, we can help you place advertisements above the very top search result. That way, you can increase your visibility as quickly as possible, which can help you drive more traffic to your website. You only have to pay for the advertisement when someone clicks on it, so this can be a cost-effective digital marketing strategy.
If you want to increase your visibility as quickly as possible, we can develop a comprehensive strategy using PPC marketing to make sure as many people know about the services you offer as possible.
Leverage SEO To Get Your Website Found By Houston Locals
A strong digital marketing strategy in Houston is a diverse one. That is why it is important to use search engine optimization as well. This is usually shortened to SEO, and at Investor Nitro, we have plenty of experience in this area. SEO is the process of tailoring your online presence to match the needs of search engines.
There are numerous components that have to come together to create a strong search engine optimization strategy. A few examples include:
You need to target the right terms and phrases. That means doing plenty of keyword research to figure out what matters most for your industry.
We need to take a look at your website to make sure it has been structured to match the needs of search engines. Each component has to work properly, and it has to be easy to navigate.
Posting high-quality content on a regular basis is one of the backbones of search engine optimization.
By using images and videos that have been properly tagged, it is possible for you to separate your website from the crowd.
We will work with you to put all of these digital marketing strategies together to make sure you get the most out of your SEO campaign. It is one of the most cost-effective digital marketing tools available.
Why Choose Investor Nitro?
If you are looking for help with REI marketing, we understand that there are plenty of options available. Some of the reasons why you should partner with us include:
We have an unparalleled level of experience handling digital marketing in the real estate sector. We can use that experience to help you.
We have worked with real estate investors of all shapes and sizes. No matter how big or small your investment firm might be, we are confident we can help you.
We always provide you with objective metrics and key performance indicators that make it easy for you to track the success of your digital marketing campaign. That way, we can figure out what is working, what is not, and how we can improve.
We have some of the best customer service in the industry. We are always responsive to your questions and concerns.
If you are interested in increasing the number of leads you have, you should partner with Investor Nitro. We are confident that we can significantly increase your traffic, boost your conversion rate, and help you generate more customers and clients through a complete real estate investor marketing strategy.