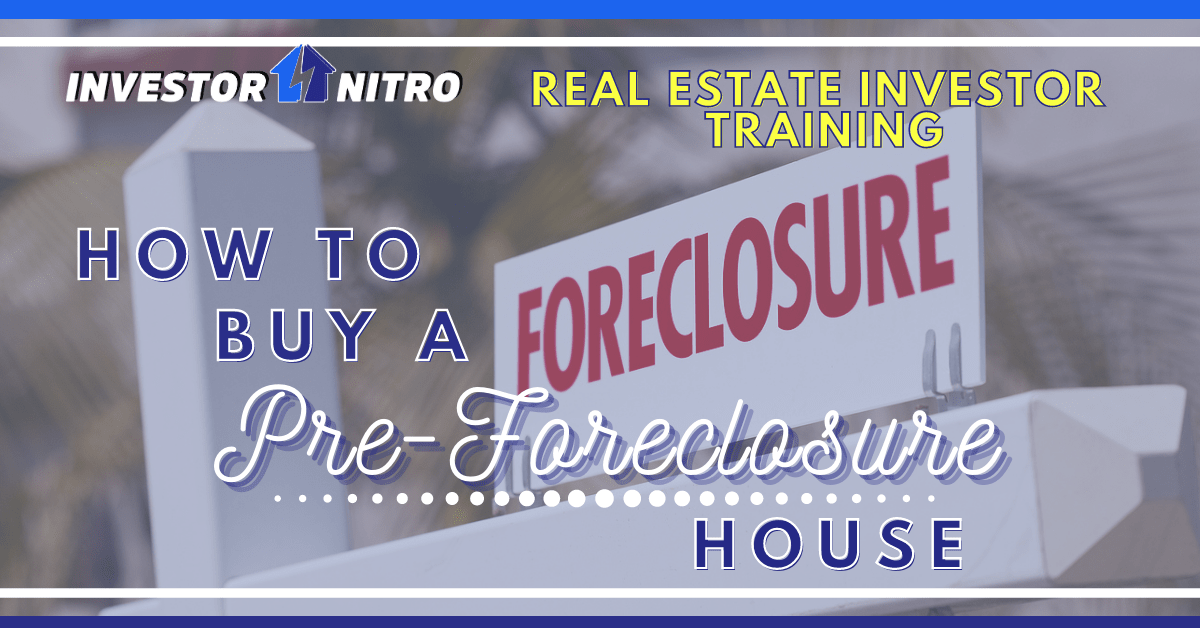 **This is part of the Investor Nitro Real Estate Investor Training series**
Buying houses in pre-foreclosure is an amazing way to grow property investments and make good money. In many cases, you can get a house for a good price and also help the owner get out of a bad mortgage. The seller gets to keep the equity in their home, while you get to focus on the rehabbing side of your business.
The first step in buying such houses is finding them. For that, you need good and reliable inbound marketing. When your strategy is executed right, the homeowners will come to you. Once they contact you and you're aware of an opportunity, you'll know how to go about striking a deal to buy the home.
Check the Numbers
Public record is an essential part of this process. Foreclosures are a matter of public record. So are home sales. You can scour the records to find homes in preforeclosure and figure out the remaining balance on the loan. This can help you gauge your offer.
When you compare the magic number to your cost analysis, you can calculate a cash offer that is enticing to the owner. The idea is to be able to offer enough to get them out of their mortgage. This can save their credit and help them move on from the situation.
Contact the Owners
Crafting your offer is the first step. It gives you an idea of what the numbers should be. But this is far from all that needs to be done. The next step is to reach out to the owner. Once you've received their information, you can contact them and explain who you are and what you have in mind. When first making contact with the homeowner, it is crucial to approach any correspondence with respect to the situation.
Ideally, they came to you in the first place. This gets past the challenges of a cold call or similar cold contact. You can skip straight to informing them of your interest. It's easier to move toward scheduling the next step. Even if it is a cold call, enter this step with the appropriate expectations.
You are not making an offer at this point. You are explaining that you are interested in buying, but the purpose of this call is to schedule a walkthrough. Avoid making concrete offers on homes you haven't seen. Instead, outline who you are and what you're about.
One approach would be to create trust with the importance of transparency. This is the starting point of communication between you and the owner. Until you can see the house, it's incredibly difficult to make a smart offer where you are likely to gain profit.
You can be accommodating and work with them on this part. For example, during the coronavirus pandemic, offer a no-contact sale process. Another way to reassure a homeowner is to tell them they don't need to do any special preparation before the walkthrough. This can be conveyed with "we buy houses as-is" or similar language in your marketing, or on your first phone call.
Do a Walkthrough of the Property
The walkthrough is arguably the key moment in the entire process. It's where you get to actually see the house, and this is obviously vital for you to assess the condition of the home. Your initial numbers are based on assumptions about the house. During the walkthrough, you can replace those assumptions with direct knowledge.
The process hinges on an accurate assessment of the condition of the home. If you aren't up to that task, you need someone who is. This can prove tricky. Bringing in a certified home inspector can scare a lot of homeowners. They'll be worried that the inspector is going to ruin the deal.As long as you can get an expert eye on the property, you can accurately assess the condition and come up with repair costs. Not all homes will require all those repairs, but it's important to have a strong understanding of all of the numbers involved.
Make Your Offer
The next step is to adjust your offer based on the walkthrough. You'll need to estimate how much you think you'll have to invest to make the house worthwhile. This also means you need to know if you are flipping, renting, or selling without renovating. According to Homeadvisor.com, the national average for undertaking a home rehab costs $39,567.
Once your offer is adjusted, you can present it formally to the owner. If it's a cash offer, the fact that you can close the deal before foreclosure finishes will be enticing. If they like the offer, you can move to close. If not, it's up to you to determine how much negotiation the house is worth.Ultimately, the key to buying houses in preforeclosure is to see a lot of homes. Not every preforeclosure will lead to a winning deal, but with persistence, you'll find plenty of opportunities to grow your real estate investments.
---
Real estate investment is a process. It requires patience and knowledge. It also requires resources that can help you find and cultivate leads that turn into lucrative deals. Achieving all this without help is a tall order, but not impossible to do for those with the time and energy for marketing their own business. The good news for the rest of us is that help is available.
Investor Nitro can help you find leads and jump-start your marketing efforts. When we handle your inbound lead generation, that'll allow you to focus on your specialty: real estate. Once the investments start maturing, you can scale your business and grow your portfolio.