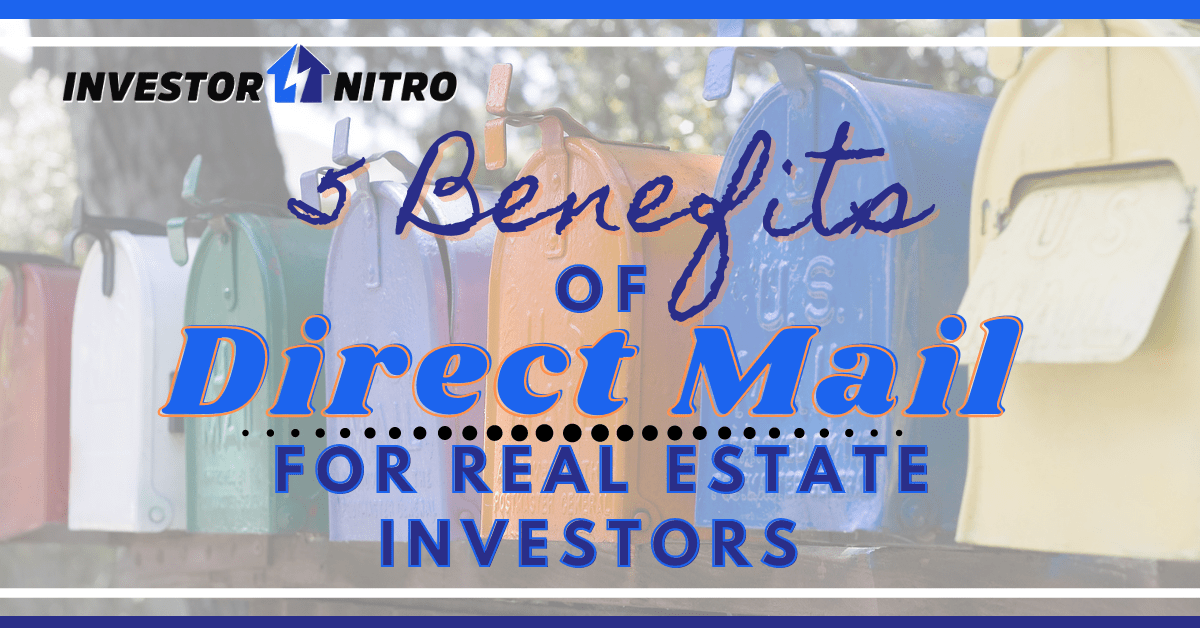 In today's super-crowded digital landscape, every marketer is looking for ways to position themself in front of the right eyes. Given all the noise on the internet these days, getting the exposure you need to be successful in your real estate investing business can be challenging.
That's why it's so important to diversify your marketing strategy, not just across multiple digital channels but beyond digital — make it physical. Venture into direct-mail marketing.
There's a widespread misconception that direct mail is no longer an effective way to market in the real estate industry. Nothing could be further from the truth. Continue reading to learn about five distinct benefits of using direct mail to market your real estate investing firm.
Direct Mail Has an Impressive Response Rate
Despite popular opinion that digital advertising is where real estate investors should focus the majority of their marketing dollars, that notion may not actually be true. According to Data & Marketing Association's 2018 Response Rate Report, the average response rate for prospects lists was 4.9% and 9% for house lists.
Compare that to paid search, email, and social media, which have an average response rate of approximately 1%, and it's easy to see why direct mail is a standout marketing channel. If you're looking to boost your response rates, it's time to seriously consider venturing into the direct mail space.
Prospects Read and Remember Direct Mail
The online landscape is super crowded. With audiences' ever-waning attention spans, many internet users have essentially trained themselves to take a glance-and-forget approach to digital advertising. That's not the case with direct mail.
When you send prospects a piece of physical mail, they have no option but to pick it up and give it a quick look — at the very least. When you target your mailers properly, make them visually appealing, and nail your messaging, that initial glance has a high probability of turning into a full-blown reading session. Prospects are more likely to remember information they hold in their hands than that they simply give a glance online.
Direct Mail Is Unique
Virtually every marketer on the planet is using some form of digital advertising. Not so with direct mail. Because direct mail marketing is far less common in the modern advertising landscape, it stands out much more than its online counterpart.
Even better, it signifies that a real estate investor is willing to devote additional time, effort, and money to sending something personalized in the mail with the prospect's name on it. Sending personalized messaging through digital channels can be accomplished in just a few clicks. Sending something physical takes far more work.
Essentially, direct mail communicates to your prospects that you're willing to put in the work to make their deal work.
Mailer Strategies Can Be Targeted to Highly Motivated Sellers
Just as you can target specific audiences with digital ads, you can target highly motivated sellers with direct mailers. Lead generation software allows you to track home sellers by behavior rather than location alone, which increases the likelihood your mailers will go out to motivated sellers.
You can find potential sellers who have requested information about selling their homes and compile highly targeted lists of prospects. You can also create lists around probate, absentee owners, preforeclosure, high equity, and more. Since you're offering something you know your prospects are highly likely to be interested in, your probability of getting a response is better than online marketing.
Direct Mail Forms a Local Relationship
When it comes to real estate, locality is important. Most buyers and sellers prefer to work with local professionals who are experts in the local market. Because local professionals deeply understand market fluctuations and how geography can influence the value of a property, sellers are more likely to depend on someone who has local expertise.
More importantly, those sellers are more likely to gravitate toward someone who demonstrates their expertise clearly. Direct mail is an excellent way to do that. With hyper-targeted direct mail campaigns, investors can easily communicate their market knowledge while personalizing their messaging and building a long-term relationship with prospects.
If you need expert help optimizing lead generation for your real estate business, get in touch with Investor Nitro's team of marketing specialists. We provide one-on-one strategy sessions for real estate investors looking to improve their inbound marketing and close more leads. To learn more or schedule a call, contact us at (817) 826-9451 or send us a message, and we'll be in touch.